Just as a father has compassion on his children, so the Lord has compassion on those who fear him. Psalm 103:13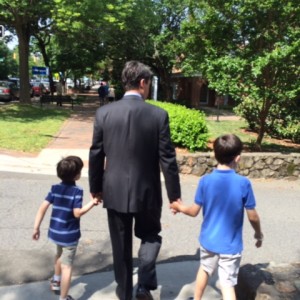 Happy Father's Day to all of our fathers, grandfathers, and to all the men in our lives who have given us their love, compassion, and guidance! How blessed we have been by their presence and influence. And Happy Father's Day to all those other special fathers who love and cherish their children, such as our sons, son-in-laws, brothers, other relatives, and friends.
It is difficult sometimes to find just the right words with the heartfelt sentiments we wish to express, isn't it? I think we all feel that way when we attempt to honor these beloved men whom we call, or have called, Dad. The words are in our hearts, but so much emotion comes into play that words simply seem inadequate to describe our feelings.
As we have searched for just the right card, poem, song, or quote to get our own personal message across to the father or loved ones we have been blessed to have in our lives, or to honor the memory of  the ones we have lost, we realize how true this is. We love each one for their own uniqueness and goodness. Each has his our own set of strengths. We realize there has been only one perfect Father, but our own fathers have surely displayed so many qualities that we admire and respect.
This was one of the most beautiful messages I found about the gift of a father:
"One of the greatest gifts I ever had came from God. I called him Dad, and when I think of him, I think of Patience. Trust. Time. Love. Pride. Joy."  
What a beautiful definition of what every father would aspire to be. We could easily add other descriptive words such as: Loving. Kind. Supportive. Protective. Reassuring. Humorous. Responsible. A strong man with a tender heart that is sensitive to others and puts his children's interests before his own. A father believes in his child and his potential. He offers guidance, discipline, stability, and security. A father is committed to his family and to God. 
There is only One who can be all these things to His children. Our ultimate example of a loving Father is found in the essence of God."Because we are a child of God He sent the Spirit of His Son into our hearts, the Spirit who calls out, Abba, Father." (Galatians 4: 6)
How blessed we are to call Him our heavenly Father, the One who guides us, loves us, comforts us, and walks with us through life. What compassion and care He gives. How grateful we can be to know that He holds us in His hands and that we can rest in His care.
Today we honor Him for giving us these men in our lives whom we hold dear. And we honor and remember them with love and gratitude.
On this day, I remember my own father with much love. I only had him in my life for a short time, but his presence has remained with me for all these years. I can still see his face and hear his voice, and I remember his strength, wisdom, and the many lessons he taught me.
I honor Bob and feel so blessed to have had the privilege and joy of watching him be the most wonderful father to our children, and for the last 7 and a half years, the most amazing granddad. He has brought so much love, compassion, and laughter into our home and into our lives.
I honor our son-in-law Drue, who is the most devoted husband and father, and we can't imagine anyone being a more loving and wonderful dad to our grandsons, Miles and Cole. (The picture above is one of my favorite, as he walks with his sons. I don't think there is a sweeter one – than of a loving father holding his children's hands.)
I honor my brothers – two have passed away – and one remains. What memories I have of our times together and how grateful I am for the blessing of having them in my life. I am so grateful for my brother, Ralph, and what he has meant to me and what he brings to my life.
Billy Graham once said, "A good father is one of the most unsung, unpraised, unnoticed, and yet one of the most valuable assets in our society."
 Fathers, we recognize what a gift you are, and have been, to us and to so many others! Happy Father's Day!
Prayer

Our most gracious and loving Father, we give you praise for your presence in our lives and for the gift of life and family. Thank you for the special men you have placed in our lives and for all the ways they have shown us their love and care. Amen